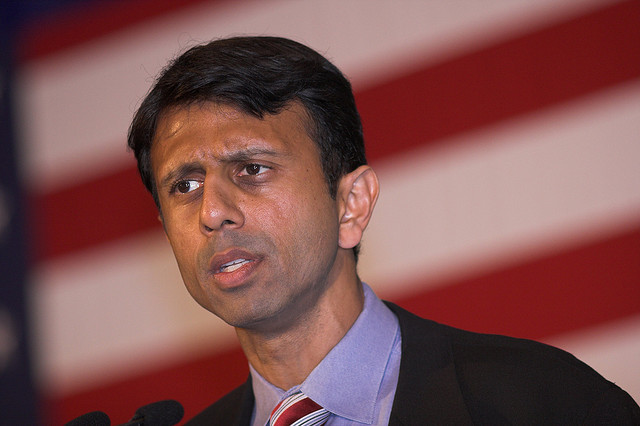 On July 22, 2015 Republican presidential hopeful Bobby Jindal posted a petition demanding that Obama fire the director of U.S. Citizenship and Immigrations Services, Leon Rodriguez.  At the top of this petition was a quote from Jindal explaining why, as a son of an immigrant, he was angry that the Obama administration would alter the oath of allegiance that would not require naturalizing citizens to militarily defend the nation:
Becoming a United States citizen is not a right, it is a privilege. Immigration without assimilation is not immigration, it is invasion. Legal immigration by people who vow to defend the United States of America can make us stronger, and my own family is evidence of this.
Then, two weeks later Jindal repeated the same phrase.  He added:
We must insist on assimilation. Immigration without assimilation is an invasion. We need to tell folks who want to come here come here legally.  Learn English, adopt our values, roll up your sleeves and get to work.  I'm tired of the hyphenated Americans and the division. I've got the backbone, I've got the band width, I've got the experience to get us through this.
Jindal is deftly but also deafly conflating a myriad of matters meant to strike key issues important to the aging Republican base.  At its opening, the statement is a condemnation of "illegal immigrants," who in his estimation fail to respect the authority and appreciate the magnanimity of the U.S.  Then he makes the key connections for a constituency anxious about their position in a changing economy and demographically different U.S.  Immigration is supposed to be about assimilation for Republicans.  If an immigrant does not "become American" then that person is infiltrating not only the nation but the culture—immigrants are invaders.  Since many of these voters have a racialized understanding of immigrants, all Latinas/os are seen as immigrants, regardless if they were born in the U.S. or not.  By the very presence of Latinos, Jindal's constituency believes that they are under a verifiable invasion.  Because of the invasion, the borders need to be secured.  A secure border requires militarization.  Militarization of the border is a defense of this nation and underlines the need to serve in the military.  In his statement, Jindal wraps up a series of bumper-sticker slogans—"support our troops," "secure the border," "America love it or leave"—and legitimizes them through his own immigrant past.