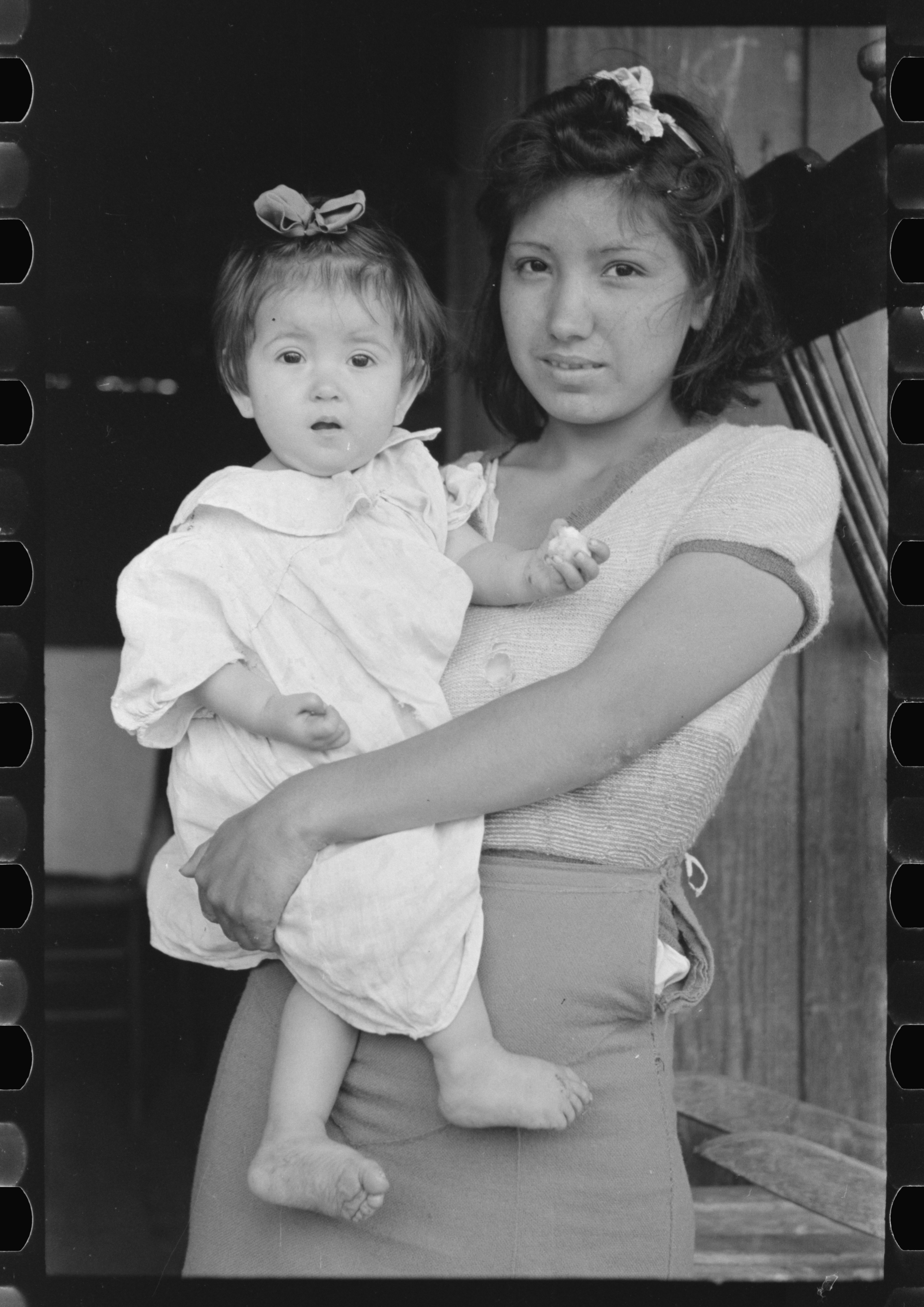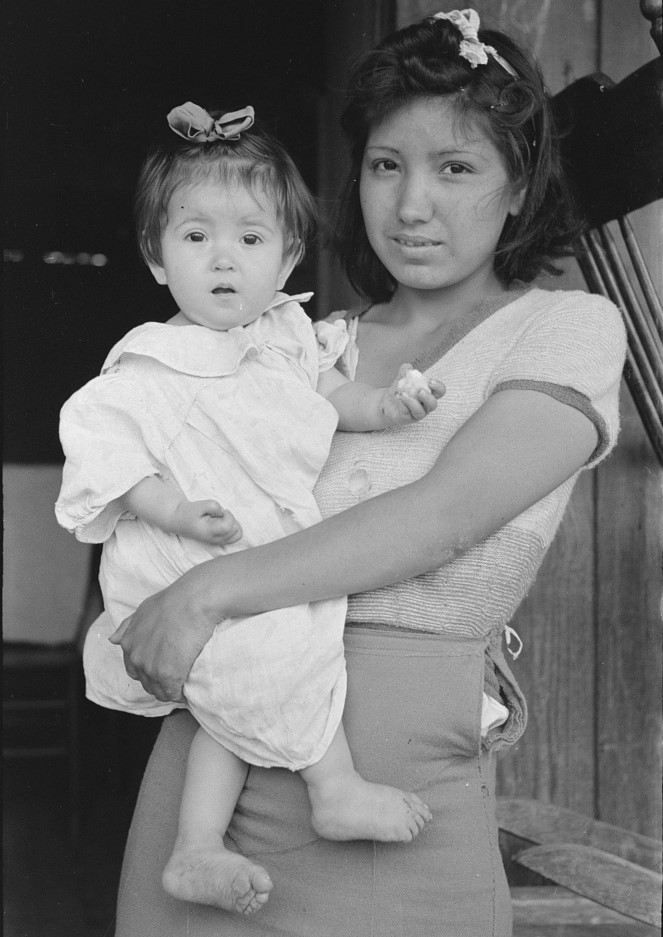 When my mother was young, my grandfather used to pick her up in his arms and half-jokingly tell her, "Ay mijita te vas a quedar muda.  No hablas el inglés, ni el español."  Just a few years before, when my mother was nine years old, they had moved to the United States from Mexico.  Being placed in an English-dominant society but living in a Spanish-speaking home left her in a strange limbo, with a hodgepodge vocabulary to match but without the ability to communicate fluently in either.
I imagine my grandfather's statement was his way of articulating bigger questions that kept him up at nights.  What if he had made the wrong choice? What if they would have been better off not leaving? Would his daughters ever find the right words? Would they forever stay mute?  The what-ifs haunted him.
My mother's transnationalism—living, loving, learning, on both sides of the border and between two nations—was not a clear triumph for my grandfather.  There were hints of tragedy and trauma.  As my mother became Mexican-American, her hyphen, from a distance, looked like an ellipsis, an incomplete clause, an unfinished process, an uncertain ending.  Mexican…American…
My grandfather was not the only Mexican to be pained by the what-ifs of migration.
In the 1920s, revolutions, both industrial and social, forced millions of Mexicans to move to the U.S. Mexican nativity in the U.S. reached its nadir.  Over 65 percent of ethnic Mexicans in the U.S. were foreign born.  Stories of exile, heartbreak, and yearning filled the pages of the Spanish-language press in the U.S.  Journalists, writers, and poets all wondered if they had made the right choice in leaving.  Mothers and fathers worried about their children who began to listen to different music, speak different languages, and dress differently.  Their children were becoming something altogether different.  "She is getting American ways…Oh! Our children get so different here," one Mexican mother lamented.
In San Antonio in 1926, exiled Mexican journalist, Conrado Espinoza, wrote of two Mexican families in his novel El Sol de Texas.  The Quijanos and the Garcias had both fled the violence of the Mexican Revolution.  They were uncertain of their stay in the U.S., but their return was not certain either.  The Garcias, especially the children, found the U.S. alluring.  They could buy cars, make-up, and cigarettes easily.  They could go to dances and spend time away from their parents.  The Quijanos, on the other hand, were not so easily changed.  At the end of the story, the Quijanos return to Mexico and the Garcias stay in the U.S.  The patriarch of the Garcias, Quico, sees the Quijanos off at the railroad.  In the Garcia family, Quico saw the answer to his what-ifs.  The Quijanos were the family that the Garcias could have been, if things were different.  At the station, he mourns:
No ellos no volverían….Sería un méxico-texano más, pero no de aquellos que aquí triunfaron a fuerza de fatigas…Tenía una esperanza: sus hijos pequeños. Velaría por ellos si lograra salvarlos, si sabía encaminarlos mejor, entonces quizá volverían a la tierra.
At the end of the novel, Quico, the father, had asked himself the what-ifs that come with migration.  He concluded that he had made the wrong choices.
In 1950, Mexican public intellectual Octavio Paz addressed the question whether Mexican parents had made the right choice in staying and raising their kids in the U.S.  By the 1940s, the majority of ethnic Mexicans in the country were born in the U.S.  The parents were Mexicans, but the Children were Mexican-American.  Paz found them grotesque.  They were "sinister clown[s]" with sad costumes that layered deformed elements of both cultures.  He wrote:
The [Mexican-American] does not want to become a Mexican again; at the same time he does not want to become a Mexican again; at the same time he does not want to blend into the life of North America.  His whole being is sheer negative impulse, a tangle of contradictions, an enigma….The pachuco has lost his whole inheritance: language, religions, customs, beliefs.  He is left with only a body and a soul with which to confront the elements, defenseless against the stares of everyone.  His disguise is a protection, but it also differentiates and isolates him: it both hides him and points him out.
For Paz, these youth would have been better off if their parents had returned to Mexico.  Their children belonged nowhere.  They had no nation.  They had no homes.  In their hyphenation, they were hideous.  For him, there was no hyphen, only periods to clearly define the ending and beginning of two different things.  Mexican.  American.
Recently, journalist and Latino USA producer Fernanda Echávarri explored the impact of her migration to the U.S. on her relationship with her sister, Andrea, on an episode of Radio Ambulante (episode 39).  The sisters, who were close when they were younger, drifted apart after Echávarri moved to the U.S. for high school, starting her freshman year.  In the story, titled Hermanas, what-ifs define the conversations and interviews.  On every return visit she wonders what-if:
Cada vez que voy a México. Cada vez que voy. Cada navidad, cada viaje. Son las mismas preguntas: ¿qué hubiera hecho?, ¿físicamente sería diferente? Tal vez. Tal vez me peinaría un poquito mejor. ¿No tendría la nariz perforada? Tal vez estaría  más flaca [risa] ¿Tendría un hijo?, ¿estaría casada? No sé.

Y me pongo a pensar mucho en mi hermana. Mi hermana es la que me… la que me… Ah… Porque nos separamos tan chiquitas.

O sea, hay mil gente que no vive en el mismo país que sus hermanos. Pero normalmente eso pasa después. No cuando una tiene 10 y otra 14. Entonces pienso mucho en cómo sería nuestra relación, cómo sería ella, tal vez, si me hubiera quedado yo para ser más…
Migration, becoming a Mexican and an American cost her personally.  She missed birthdays and vacations.  She missed conversations and the small and subtle exchanges that make sisters.  In what she described as a parallel universe, she wondered what would have been if she had stayed in Mexico.  She might be married, she might be a mother, she might be a little skinnier.  Her heartfelt story is filled with what-ifs.  "Hubiera" appears nearly twenty-one times in her story to describe worlds of alternative possibilities.  It is a story of the present, and a story of what-ifs.  At one point she defines the entire piece as "hablando de hubieras."
These stories speak to the uncertainties and possibilities of migration.  Borders can be crossed, but sometimes you can never go back home.
The hyphens at the center of identities embody a contingent power, a path toward intersectional understandings that build solidarities across borders.  The hyphen and its unique grammatical construction that bridge clauses and phrases, add thoughts and ruminations, is a multi-purpose instrument whose use is imprecise and contested.  Some people thrive by living on the hyphen, and others were born into it.  Mexican-American. Dominican-American. U.S.-Latina/o.
For others, however, their hyphens were grafted on.  Their hyphens are more like ellipses, the spaces between each period open to painful and potential contingencies of possibilities and improbabilities that leave clauses and thoughts open and unfinished.  They are questions and half-thoughts.  They are uncertain.  They are chasms separating lives and universes.  What if… Si hubiera… Mexican…American…
Photo courtesy of Library of Congress